It's my birthday!
Yay, I'm 16!
What did I get?
-The ability to now suffer from fatal car crashes due to legal driving age
-A free phone that just coincidentally happened to appear on the time of my birthday, not a present
-A new computer
Here's a little pile of things, excluding the laptop.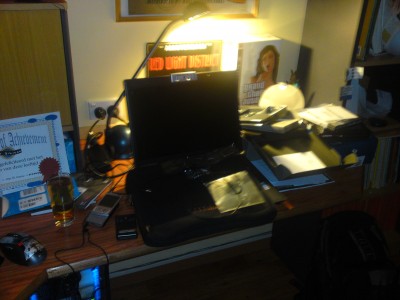 Surprisingly, the free phone, a Nokia N95 for opting in to a survey team, is faster and better in some ways than my LG Renoir touch phone. I don't know which one to use as my main, carrying two around is a little unpractical, but my old one's still better in most ways I'd use a phone anyway.
Oh and yeah, a new computer. Specifically:
-Intel Core i7 920
-OCZ 60GB High Speed SSD
-6GB Kingston DDR3 1600Mhz Memory
Aw yeah.
And I also got a kickass case.
I didn't get a graphics card because honestly a GTX 200 series isn't that much of an improvement over a 8800GTS 640 when I'm going from maybe 5fps on max in the ultra newest games and then going to 15fps, so I'm waiting for a DirectX 11 card.
I also got a rather humorous little drive-away-unfairly-fast-alarm clock and a $30 movie card I'll probably spend not too far in the future!
I'm yet to see about that stock speed for the processor :)!
Here's a few more pictures (including some posted here):
https://renscreations.com/images/computer/P11-07-09_0043.JPG
https://renscreations.com/images/computer/P11-07-09_0044.JPG
https://renscreations.com/images/computer/P11-07-09_0044[01].JPG
https://renscreations.com/images/computer/P11-07-09_0045.JPG
https://renscreations.com/images/computer/P11-07-09_0045[01].JPG
https://renscreations.com/images/computer/P11-07-09_0046.JPG
https://renscreations.com/images/computer/P11-07-09_0046[01].JPG
https://renscreations.com/images/computer/P11-07-09_0047.JPG
https://renscreations.com/images/computer/P11-07-09_0047[01].JPG
https://renscreations.com/images/computer/P11-07-09_0047[02].JPG
https://renscreations.com/images/computer/P11-07-09_0048.JPG
https://renscreations.com/images/computer/P11-07-09_0048[01].JPG
https://renscreations.com/images/computer/P11-07-09_0048[02].JPG
https://renscreations.com/images/computer/P11-07-09_0049.JPG
https://renscreations.com/images/computer/P11-07-09_0049[02].JPG
https://renscreations.com/images/computer/P11-07-09_0049[03].JPG
https://renscreations.com/images/computer/P11-07-09_0050.JPG