LG "Renoir" KC910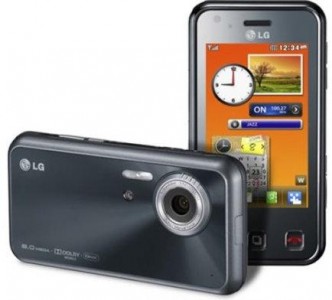 The LG KC910, nicknamed the Renoir., is the latest touch-based smart phone model released by LG. I've received it for Christmas so this article is a little late, but I figured it's better now than never, I've actually got some experience with it now.
One of the cool features about it is the main interface. It has widgets, which run similar to those of Windows Vista and 7's gadgets. You simply drag them onto the interface and you can use several little handy tools such as a weather checker, a calender and more, and if the display is full you can simply scroll the screen for more widgets and such.
There's actually quite a few interesting features here, so I might as well turn this into a full blown review.
The phone comes with a few handy tools consisting of the phone itself with a battery, a stylus, LG-based USB cable (not universal unfortunately), a socket recharger, a software disc and then finally the manual. Optionally, owners of this phone can also purchase an LG TV cable which will allow you to play many different video formats/codecs (includes DivX!) directly onto a nearby TV, which I've actually tested out a few days ago with promising results.
It's a proper full 3G phone, video call support, MMS, SMS, E-Mail, internet, Bluetooth 2.0, and a very decent battery life. Purely as a phone it does very well, but then come the many extra features this phone provides.
Another one of the main hardware features of the Renoir is the 8 MegaPixel camera with resolutions going up to 3264×2448 pixels, saved in JPG format. It's got powerful features too, including a xenon flash and a surprisingly large set of customizable options to edit your photo afterwards, autofocus and an ISO from 100 to 1600. One of the other very nice features of the camera is that it supports slow-motion recording, which records footage up to 120fps which can bring quite entertaining results.
It also comes with many other little handy extras, such as assisted GPS, an accelerometer (movement-enhanced applications and features), a flash-supported browser, FM radio, the ability to play flash files, Java support, and support a large range of video, picture and sound formats. It's also got a whole range of organising utilities, such as a 'to-do' list, an alarm system, voice recorder, automatic e-mail checks, calender events and message reminders on the lock screen. With the large range of freely available Java applications available, this phone can ofcourse also support these files, such as Ebuddy.
It comes with an 8GB SD card, so storage should generally not be a problem, and additional or larger cards can be purchased when in desperate need. It saves a large range of history such as browsing, messages, calls, all of which can be deleted seperately.
Another main feature of the phone is the ability to enhance MP3 files with Dolby Mobile technology. This is in fact the first phone equipped with this technology and makes audio quality quite noticably more sharp, whether on speakers, earphones or any other audio hardware externally attached. The only downside about this feature is that it only works for MP3 files, and not all songs have the same positive effect as others, but gladly enough most do.
When you've taken a video or picture, or have simply loaded one on to your phone using either the LG PC Suite software included or simply use the phone as a mass storage device, you can extensively modify it using the inbuild picture and even video editing software and then directly upload media to your blog, YouTube, e-mail it to someone or send it via Bluetooth.
The phone is also highly customizable, and supports quite a wide range of personalized settings, themes and there's even some themes and software for the phone floating around the internet that completely transform the phone, one of these examples can be viewed below, which turns it into near-iPhone software.
An LG App store has been rumored to be available sometime in the future, and Microsoft and LG have partnered to work on a greatly enhanced mobile web browser to bring as much similarities as possible as a PC provides. There's already a software SDK kit available if people wish to create their own software and then there's also unofficial software released for some of the more deeper features such as theme editing and flashing.